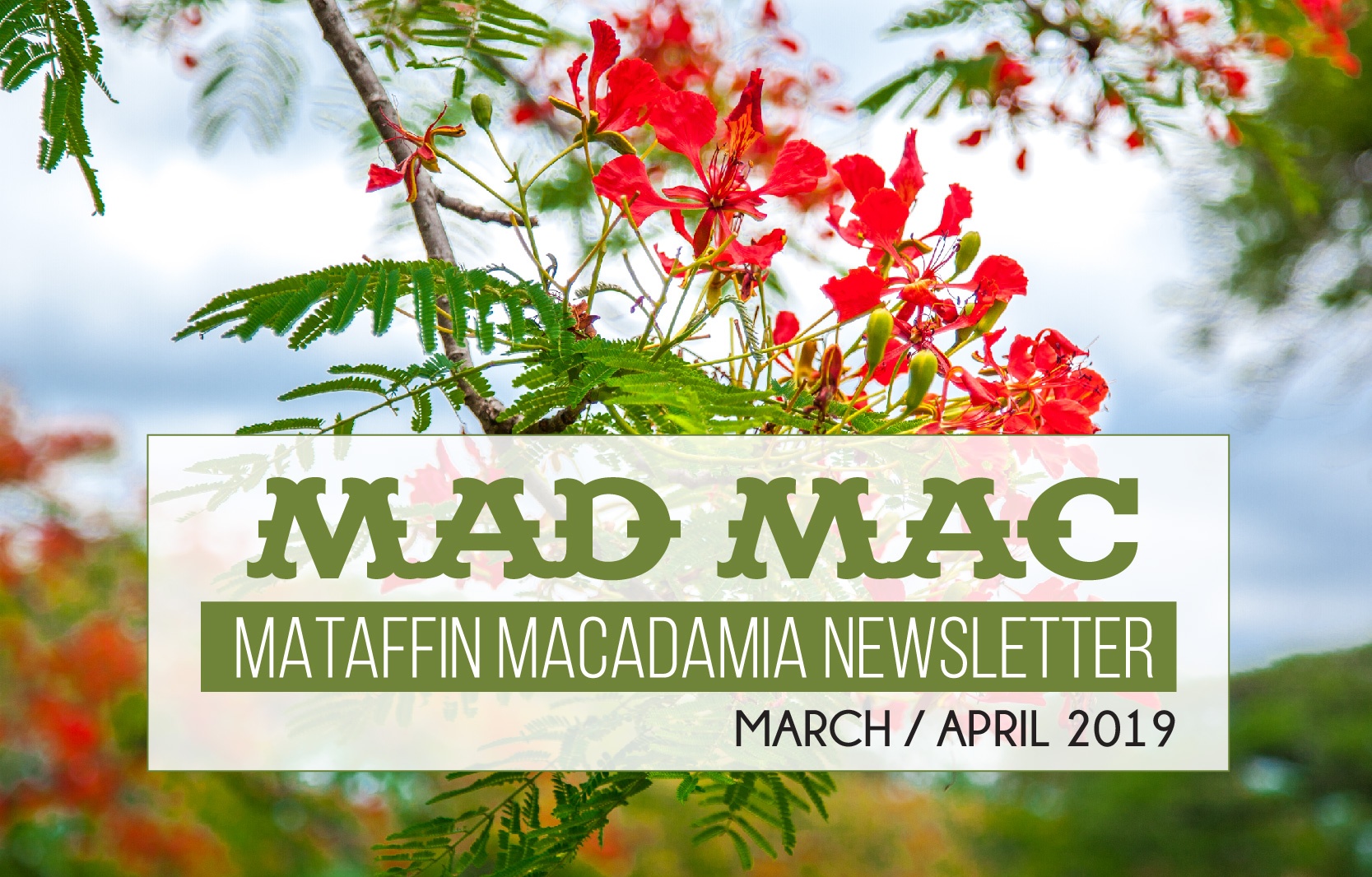 16 Apr

MadMac March/April 2019

Autumn is truly here to stay; cool mornings and evening are a blessed relief.

With mounting anticipation for the upcoming elections on the 8th May, please note that the voting station is not at the old Halls Clinic, but there will be a mobile voting station at Hall's Gateway.

RESIDENTIAL MATTERS

Comings:      March: Almarie& Walt Opperman

                        April: Alma Berlein, Juliana Pretorious, JM Kolmitz and Amelia Smit. Carol Proudfoot

Goings:          April:              Caroline & Derick Louw

VILLAGE NEWS:

We are very proud to announce some remarkable achievements by residents of Mataffin Macadamia:

ACHIEVEMENTS AT PARK WALK/RUN FOR LIFE to date:

Frank Fisher – 110 Completed                                Audrey Croudace – 90 completed

Geraldine Janssens – 100 completed                  James Aling – over 70 completed

Elmarie Kruger – 98 completed                             Norton Taylor – around 70 completed

YOU ARE NEVER TOO OLD

One of our members, Geraldine Janssens (75 years) competed in the South African Masters Swimming National Championships held at Newton Park, Port Elizabeth on 20-24 March.

Geraldine won the gold medal in three events: 50 meters Backstroke, 100 meters Backstroke and 200 Meters Backstroke and broke the National record in all three,  breaking the record in the 200 by 18 seconds, in a time of 3.36, and achieving SA Colours.

She then went on to take the silver in the 200 meters Individual Medley and the bronze in the 50 meters freestyle.

Geraldine will compete in the World Masters Championships taking place in South Korea in August.

All of us from Mataffin Macadamia wish her success and to know that we will all be holding thumbs for her to bring back some more medals!

VILLAGE MANAGEMENT

 

Vehicles

Speeding vehicles continue to be a hazard for pedestrians, which eventually may result in the installation of speed bumps.

Load shedding

At the last Home Owners Association (HOA) meeting the merits of an alternative electricity supply was raised. Generators verses solar power. Marius Kruger (the Caretaker), has been requested to investigate all suggestions and give feedback.

Annual General Meeting (A.G.M.)
The A.G.M. is to be held at the Community Centre, on 5th June at 17h00.

Please use this platform to raise any issues you feel affects the smooth running of the Village. According to the Memorandum of Incorporation (MOI) these issues need to be submitted to any member of the HOA in writing or email, no later than 14 days prior to the A.G.M.

Please note that there are places to be filled on the HOA. Nomination forms will be available in the minutes of the previous AGM meeting which you all will receive in May.
Trees
As you would have seen and heard, all the Flamboyant trees have been dramatically pruned, due to the danger of falling branches and to comply with height specifications needed for fire engines to have clear access in an emergency. Lionel, the tree feller, has performed extremely skillfully, considering how many branches hung over fences and rooves and needed to be removed, the enormous size of many of these branches, and then the logs needed to be cut up and taken away. There was not another contractor in Nelspruit who was prepared to take on this job! Thank you, Lionel!

Root pruning continues, to be able to level out the paving of our streets.
Security
An alarm is now connected directly to the control room at J&M, from the gate and the fence. This system has been tested a few times by the Caretaker and it is working well as the armed patrol drives directly to the area where the alarm has gone off.
Visitors and Family Entering Mataffin Macadamia.
Please take note:  if family or visitors  arrive at the gate and want to enter the Village the guard may not, and  cannot, open for them.
The guard is available to help anyone arriving at the gate to find your alternative numbers and to see that your visitor is using the Mircom system correctly. However, he does NOT have the ability, nor the authority, to open the gate. The onus is on yourself to help us maintain security and avoid unnecessary risks.
You need to be aware that if you do not answer the Mircom call, either on your cell phone or landline, your family/friends will be turned away. 
We have recently had several complaints of people being turned away at the gate and we understand that this can be an unpleasant experience, but this is a gated community you have chosen to live in and therefore every individual has a responsibility to keep our Village safe.
Community Centre
The Community Centre continues to be used and supported well. It is with great enthusiasm that we can let you know that the sideboard has at long last been installed.

The photos of the development of the Village from inception to date, are being sorted and their numbers pared down. They will eventually hang on the walls of the Centre.

The Library, under Val's expertise, is a real win for the Village and is jam packed with books to suit all tastes. It is wonderful to see how many readers we have in our village

The pool is a great hit with residents and their children, as well as various activities such as water aerobics.

The Boule court is regularly used – not only for the game of boule, but it seems to have become a favourite spot for toddlers to sift sand between their little fingers!

The entrance to the top-level parking at the Centre, is to be changed and widened so that the entrance and exit will be easier to negotiate.
Activities:
Mondays:      Bridge             14h00 – 17h00

Tuesdays:

Wednesdays: Rummikub     14h00 – 17h00

Thursdays:   Art Group        9h00 – 11h30               

Craft               14h00 – 17h00

Fridays         Bridge            14h00 – 17h00                 Pub Evening  17h00 – 19h30
Dog Issues
The open Park in the Phase 3 area, at the end of HL Hall Street, has been suggested as dog friendly and would need to be fenced so that dogs can be let off the lead.
MPU COMMUNICATIONS
The fibre optic cable to the gate has recently been installed and You have probably noticed that your emails are now downloading much faster.

Remember: MPU have a technician on-site once a week. If you are experiencing any problems, please email or call the office and Robyn or Marius will pass it on to the MPU technician.
Owl's Reflection:
We, the owl population on Mataffin Macadamia, have come home and are amazed by all we see.  How the young trees have grown, how the old trees have been pruned, how the gardens have developed, how the buildings are nearing completion and I am sure you can hear us whoo-whooing to each other all night long.
Tart has been sneaking around again and ……
 According to Tart
My goodness, but that scrawny old owl thinks he sees and knows all; but there he is  sleeping all day!  I never sneak!  This village is patrolled and monitored by me and I am the one who keeps an eye on things while making sure that unwelcome critters keep moving, until they are no longer occupying space here.  There was a puff adder that recently snuck in and caused quite a commotion, but he was ably dealt with by your caretaker.  He wouldn't have lasted long though – my little friends, the dwarf mongoose and their cousins, the slender mongoose, have started to frequent the Village. Early in the mornings, when there is still dew on the grass, they come out of their hiding spots in the hedges and can be seen rushing across the open patches to their next hiding place, looking for tasty morsels in the form of reptiles, birds' eggs, insects and even rodents.  If Owl isn't careful, they will put him out of a job … and that won't come too soon.
I have also organised the Ibis Brigade to have a regular early morning meeting to discuss their individual areas of responsibility.  Approximately twenty of the brigade meet just after dawn on the Village Green and get themselves into a huddle to discuss the day's strategy. At one raucous call from the chairperson, they each give an answering 'Haa-dee-daa' and head off in their squadrons to eradicate crickets, worms and other insects.