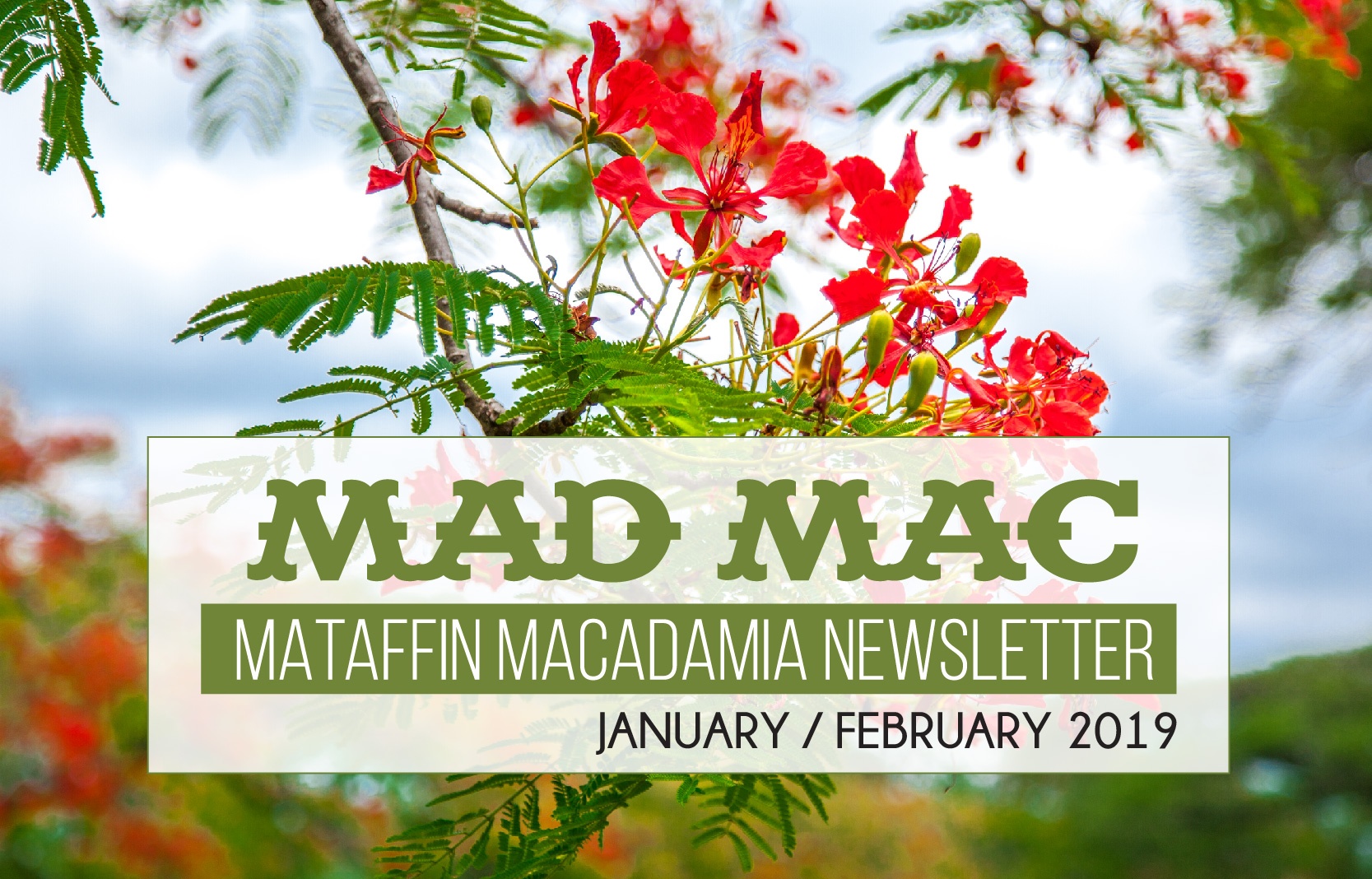 18 Feb

MadMac January/February 2019
A New Year dawns again full of promise and hope, as well as only 10 months to go to Christmas. We are still experiencing a water shortage with the Kwena Dam stubbornly remaining under 40%.
The Life Style Village is nearing completion with only one home left to build.
Residents: Comings
We welcome the following people to our village: 
Clement and Alix Dufour
David McCarthy
Jeff Calmeyer and Bianca Fraser
Niel & Michell Saaiman
Goings 
Farewell to:
Riaan van der Merwe
Cobus Nel and Barbara Mostert
Caretaker Team
The new caretaker team has completed their first three months and have proved to be a great asset to the smooth running of the Village.
The handing over and dropping off Community Keys is still proving to be time consuming and clumsy, therefore a safe box has been installed to make the process easier for all. 
Community Centre
Over the hot, humid festive season, the Community Centre and swimming pool were in great demand and enjoyed by many. Some of the issues which came to the fore were:
Friends of residents using the pool without being accompanied by the resident, this is not allowed.

Glass objects such as bottles and glasses are forbidden in the pool area.

Lost property, please make sure when leaving the centre you take all your kit. Lost property will be kept in the Community Centre for one week before being donated to a charity.
KindCare (kind2hearing)
Dalene from KindCare would like all residents of our Village to know about the service they offer.
Once a month they visit the Care Centre from 9 – 10am and offer the following:
Free hearing screening (Ts & Cs Apply)

Complete Hearing Tests (Medical Aid claimable)

Hearing Aid Devices

Free Cleaning of Devices

Accessories and Batteries for devices.
To be sure that Dalene has time to see you, please phone the Care Centre and make a booking and inform them why you want to see her.
Below are the Dates that KindCare will be here:
            4th March                                8th July
            1st April                                   5th August
            6th May                                    2nd September
            3rd June
Proposed new activities to be held at the Community Centre are:
Water Aerobics starting 3rd week in February.

Pilates starting in February.

Basic Computer Course: if enough people are interested and a competent teacher is found – enquiries are ongoing.

An art group has been established. They meet at 09h00 – 11h00 at the Community Centre every Wednesday morning to paint or sketch. All are welcome from beginners to established artists. For more information please contact Brian Phillips at 0788 or on his cell phone at: 082 921 3517.
Functions
A number of functions were held in January and seem to have been a success. As the centre is still in its infancy we are learning as we go along.
The impact of a live band at the community centre on the village was hugely invasive, therefore the HOA has decided that if there is a function open to all residents a band can then perform on the Village Green however, no band will be allowed play at the Community Centre.
Village Matters
Dog Issues:    A notice has already been circulated re: dogs at the Community Centre. We also wish to inform all dog owners that barking dogs cause a disturbance to their neighbors, needs to be addressed by the dog's owners.
Traffic: Hearing impaired residents have brought to our attention that they are unaware of cars coming up behind them until the last moment. This is another reason to drive with caution in the village.
Tree Felling:   Various trees and branches have been identified and tagged for removal by both Neil and Marius. Felling has already started on the most unstable branches. The rest of the felling will be completed in winter.
Numbering of Houses
The outstanding house numbers have all been addressed except for one and should be completed before the end of the month.
Date of AGM
Monday 20th May @17.00
Several vacancies have become available on the board so please forward any nominations.