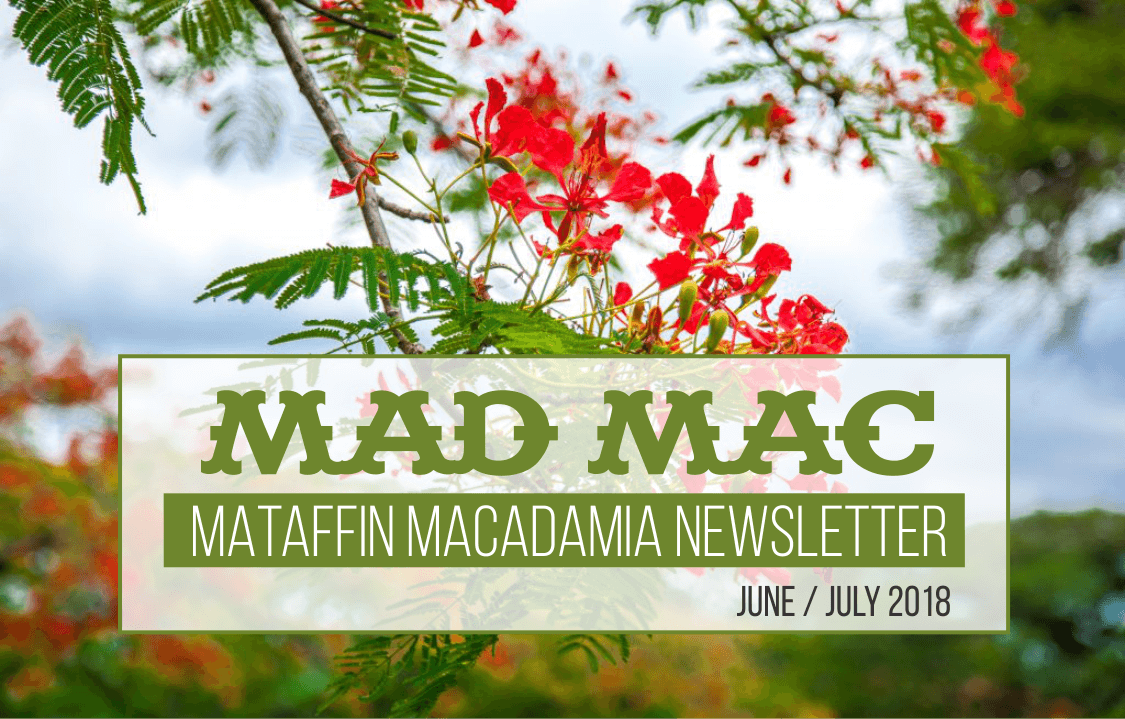 28 Jun

MadMac June / July 2018

It is with great excitement that we have been given the go ahead to start a communication to all the Village residents in the form of a newsletter. We have tentatively called it the "Mad Mac" but all other suggestions are most welcome. We are hoping to send it out on a 2 monthly basis, under the headings below. Hoping you find our first editorial interesting and informative.
RESIDENTS – COMING & GOING
We bid Mike and Bernice Jordan, Dries and Elize van Rooyen farewell and
We welcome Mark Bell, Nicholas Els and Thandazile Manjingolo into the Village and especially Emily Shaw, sister to Eric and daughter to Mark and Karen, born recently.
BACKGROUND ON VILLAGE MANAGEMENT
There are a number of sections in the Village each with their own set of rules and managed separately:
The Lifestyle and Assisted Living Freehold managed by the Home Owners Association Directors
Senior Lifestyle Apartments managed by their Body Corporate Trustees
Lifestyle Apartments managed by their Body Corporate Trustees
The Assisted Living units managed by their Body Corporate Trustees
Macadamiacare, which is a private company within the Village.
The Home Owners Association Directors oversees matters such as security, common property (roads, pavements, street lights) refuse and recycling at the main gate.
All concerns are to be directed through the Caretakers who will resolve these concerns or forward them onto the directors or trustees for action.
The Caretakers for all sections are Brian and Margie Phillips except the Lifestyle Apartments residents who have Alwyn Fourie as Caretaker.
EMERGENCY CONTACT NUMBERS
082 921 3517 / MPU telephone (landline) 0788 – Brian and Margie Phillips, Caretakers
082 888 0359 – Alwyn Fourie, Caretaker for Lifestyle Apartments.
013.741 7400 – MPU Communications to report landline and internet problems (using your cellphone)
013.752 6839 – Sembcorp Silulumanzi to report water leaks during office hours and 086 174 5858 after hours on their piping. Note that Sembcorp Silulumanzi is responsible only for the water system up to your meter, otherwise it is for the owner to rectify by getting in a plumber.
VILLAGE CONCERNS
Please adhere to the speed limit of 30 kph in the Village
Please pick up your dog's droppings and keep them on a lead when taken outside your property
Please register new domestic workers with the Caretakers before they start working for you
Please read though the Community Centre rules especially those pertaining to the swimming pool
BON VOYAGE
Welcome home from their overseas trips to Bruce and Robyn Mc Laren and Roger and Ann More O'Ferrall
Wishing Phil and Andrea bon voyage on their up and coming overseas trip.
DATES OF INTEREST
Annual General Meetings for Home Owners Association Freehold , Assisted Living Apartments, Senior Lifestyle Apartments and Lifestyle Apartments were held earlier in June 20018
Community Centre Meeting on 6 June 2018 (see below) and 28 June 2018 at 17:00
Anniversaries ( eg. 40th, 50th etc. Please inform the editor so that these can be added to in future.)
Birthdays Geoff Rogers turns 70 years old on 27th June (eg. 70th, 8oth, 90th etc. Please inform the editor so that these can be added to in future.)
FEEDBACK ON MEETINGS
Home Owners Association Freehold A.G.M. held on 12 June 2018
The A.G.M. was held at the Community Centre and was well attended by owners of the Freehold section.
James Aling, chairperson, went through the Agenda and Mathew Comins, director, commented on the financial statements.
The Board was re-elected with James Aling, as Chairperson, and Mathew Comins, Adrian Newton, Caroline Rogers, Geraldine Janssens and Don Lagerwey as directors.
The evening ended with snacks and wine which was enjoyed by all.
Community Centre Meeting held on 6 June 2018
A meeting was held all with interested parties to discuss the social use of the centre. Many suggestions were made and noted. In order to drive this initiative forward we would like to have another get together on 28 June at 17:00 to discuss how and who will take on each proposal. We suggest that you bring your own eats and drinks and spend time together afterwards.
The Crafters
This group of ladies, who meet every Thursday afternoon at 3pm, has been a great success and welcome any new members.
Mens' Pub Lunch
The Village men enjoy meeting periodically for lunch at some different restaurants in town. If you would like to join them please contact John North on MPU telephone number 0816to have your name added to the Whatsapp group.
COMMUNITY CENTRE APPEAL
If residents have any of the following items that they no longer need please consider donating them to the Centre. This includes knives, forks, spoons, serving spoons, cake forks, carving knives, braai tongs etc.
PERSONAL PROFILE – Antjie Newton (Maths Teacher & Potter)
Antjie completed her teacher's training diploma at Helderberg Teachers Training College after which she taught Matric Maths at Randburg Hoerskool for 6 years.
For the past 42 years, she has been a professional ceramicist; along the way she has been influenced by a number of potters, including Gloria Holden, Carol Green, Gillian Bickell , as well as Tim Morris.
In 1987 Antjie relocated her Studio to White River, where, amongst her other work, she made wine carafes for Rottcher Wineries. It was in White River that she became friendly with Val and Esias Bosch; the latter, together with their son, Anton gave her lots of support and encouragement. She sold her wares from her studio on the Yaverland road and over time progressed to a shop in Casterbridge.
Initially, She sold her wares from her studio on the Yaverland road; thereafter, she moved her Studio and shop to Victoria Farm (now a renown Boutique Hotel, Nut Grove Manor) for almost 12 years,then to the Casterbridge Lifestyle Centre, where she spent some 10 years-before moving her Studio to Recoleta Estate, White River for 3 years.
Antjie relocated, with husband Adrian, to Mataffin Macadamia Lifestyle Village some 3 ½ years ago; from her small Studio, she continues to take on Commission work for lodges in Private Game Parks and, once a week, devotes her time to giving pottery lessons.
RECIPE OF THE MONTH
Cheese & Apricot Jam Biscuits
Ingredients:
500 ml cake flour
2 ml salt
I ml baking powder
250 gm finely grated cheddar cheese
250 gm margarine (at room temperature)
Apricot jam
Method:
Sieve flour, salt and baking powder, add grated cheese and mix well.
Add soft margarine and mix.
Roll dough into walnut size balls and place on greased baking sheet.
Press centre of each ball with the end of a wooden spoon.
Bake at 200 degrees centigrade for about 15 minutes unitl golden brown.
Drop a little apricot jam into the indentations whilst hot.
Super snack to serve with drinks.
Keep safe and warm until the next issue in August.
Caroline Rogers, Editor