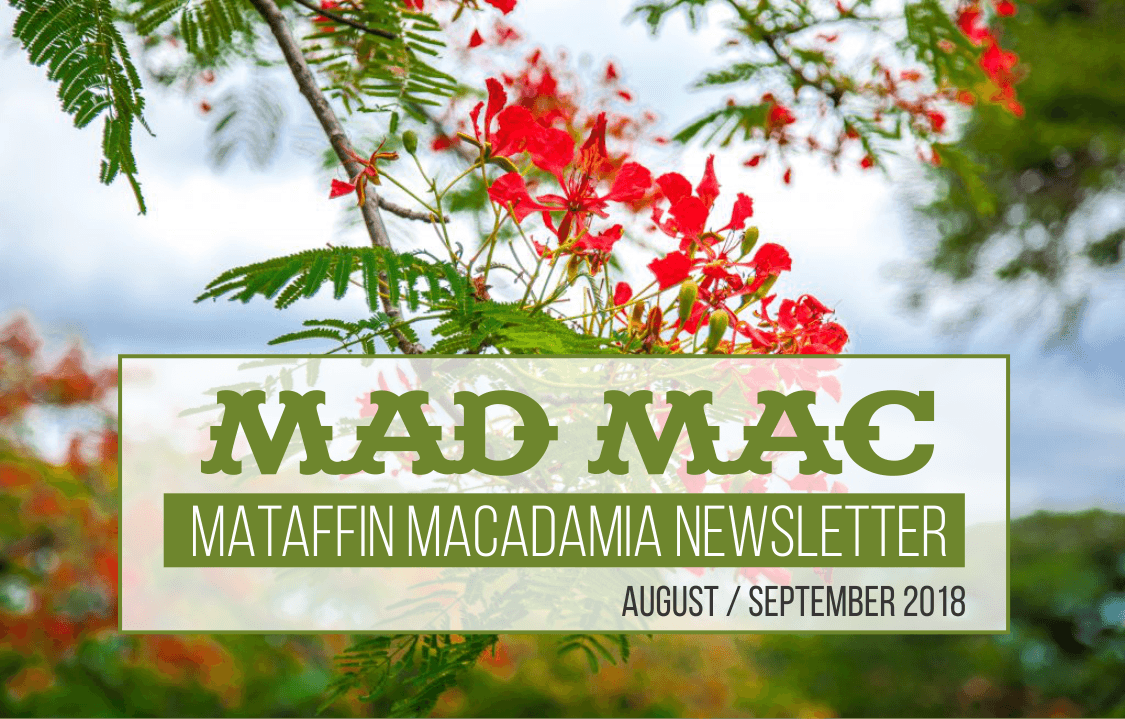 21 Aug

MadMac August / September 2018

From a chilly Mataffin Macadamia we are, can you believe it, into our 2nd Edition of Mad Mac Newsletter. Hopefully this one will come out on time.

RESIDENTIAL MATTERS

Comings:
Sofie van Veijeren, New Sales Agent
Vilma Feneysey and Hettie van der Klashorst have moved into the Assisted Living Apartment section
Sheelagh and John Roome have moved into a Lifestyle Apartment
Michael Hancock has moved into the Freehold section of the Village
Departures:
Hettie Swart – Previous Sales Agent
VILLAGE MANAGEMENT
Brian and Margi Phillips have asked to be relieved of their Village Management responsibilities as soon as a suitable replacement has been appointed. (This position will be advertised).
VILLAGE CONCERNS
As we are approaching Spring, please make sure you are all aware of the swimming pool rules as well as the code of conduct for the Community Centre.
It is disheartening to see the amount of dog droppings on the Village Green. Please clean up after your dogs.
BON VOYAGE
Welcome back to James and Beth Aling from their overseas trip.
FEEDBACK ON MEETINGS
MPU – Meeting with MPU on 12th July to inform village residents on the new MPU contracts based on the increased internet speed – you should have already received an email to this effect. Forms are available from the Community Centre.
The Home Owners Facilities Management Meeting was held with service providers on 30 July 2018. The following matters were covered:

The solid sliding white entrance and exit gates will remain closed over the weekends. The closing time of these gates will be shortened further.
A meeting has been held with the recycling company, Green's, for a better bottle bank to be reinstalled near the main gate
The white LED lights outside the Community Centre were replaced with softer yellow lights after complaints were received.
The Community Centre outside lights now come on at 17:00 and the timer has been set for these lights to go off at 20:30. Where functions end later the lights will be adjusted go off at 22:00.
MPU Communications application forms for higher speed internet are now available from the Caretakers. This includes a capped version that was requested by some residents who have low internet usage.
The higher speed data service will be available by mid-August 2018.
HOA – A survey on the need for a postal service and various options will be sent out this month to owners.
COMMUNITY CENTRE
The last 2 meetings held to discuss the use of the Centre have proved a great success as can be seen from the table below:
DAY
TIME
EVENT
ORGANISER
Monday
8:00 – 13:00

From 17:00

Library

Ballroom Dancing

Norton Taylor

Tuesday
8:00 – 13:00
Library

Wednesday
8:00 – 13:00

From 14:00

Library

Rummikub

Karoline Schuur

Thursday
8:00 – 13:00

From 15:00

Library

Craft Ladies

Katie Jenkinson

Friday
8:00 – 13:00

From 14:00

From 17:00

Library

Bridge

Pub Night

Anne Impey

Frank Fisher and Billy Dewar

Saturday

Sunday

See the Notice Board for booked events that will take place
Should an unscheduled Home Owners Association meeting require the hall the organiser of an event mentioned above will be consulted.
Community Centre Appeal:
We wish to thank the following residents who have responded to our request for items to be used at the centre:

Basil Woodward for a Dartboard
Betsy Woodward for a carving knife
John North for wine gasses
Geoff Rogers for the loan of wooden Deck Chairs
Surplus wine and beer glasses from Frank Fisher and Billy Dewar organisers of the Friday Pub night

It has been suggested that we hang photographs of the progress of the Village in the Community Centre. Will residents that are in possession of such photos please let Caroline Rogers see them.
RECIPE OF THE MONTH – Chocolate Cake
Ingredients:
"A" (sift together)
1½ cups flour
1½ castor sugar
3 tsp baking powder
2 TBS cocoa
"B" (in another bowl)
¾ cup veg oil
¾ cup water
1 tsp vanilla
Method:
Mix "A" with "B"
Separate 4 eggs. Add yolks one at a time to the above mixture. Beat white stiffly and add by folding slowly into mixture. Mixture is very light, fluffy and soft.
Put into 2 cake rings
Bake for 30 minutes @ 177 o C
Icing:
125g butter
1½  cups icing sugar
2 TBS warm black coffee
1 tsp vanilla
2 TBS cocoa
Mix well and spread onto top of cakes.  Put one half on top of other to complete.
Caroline Rogers. Editor