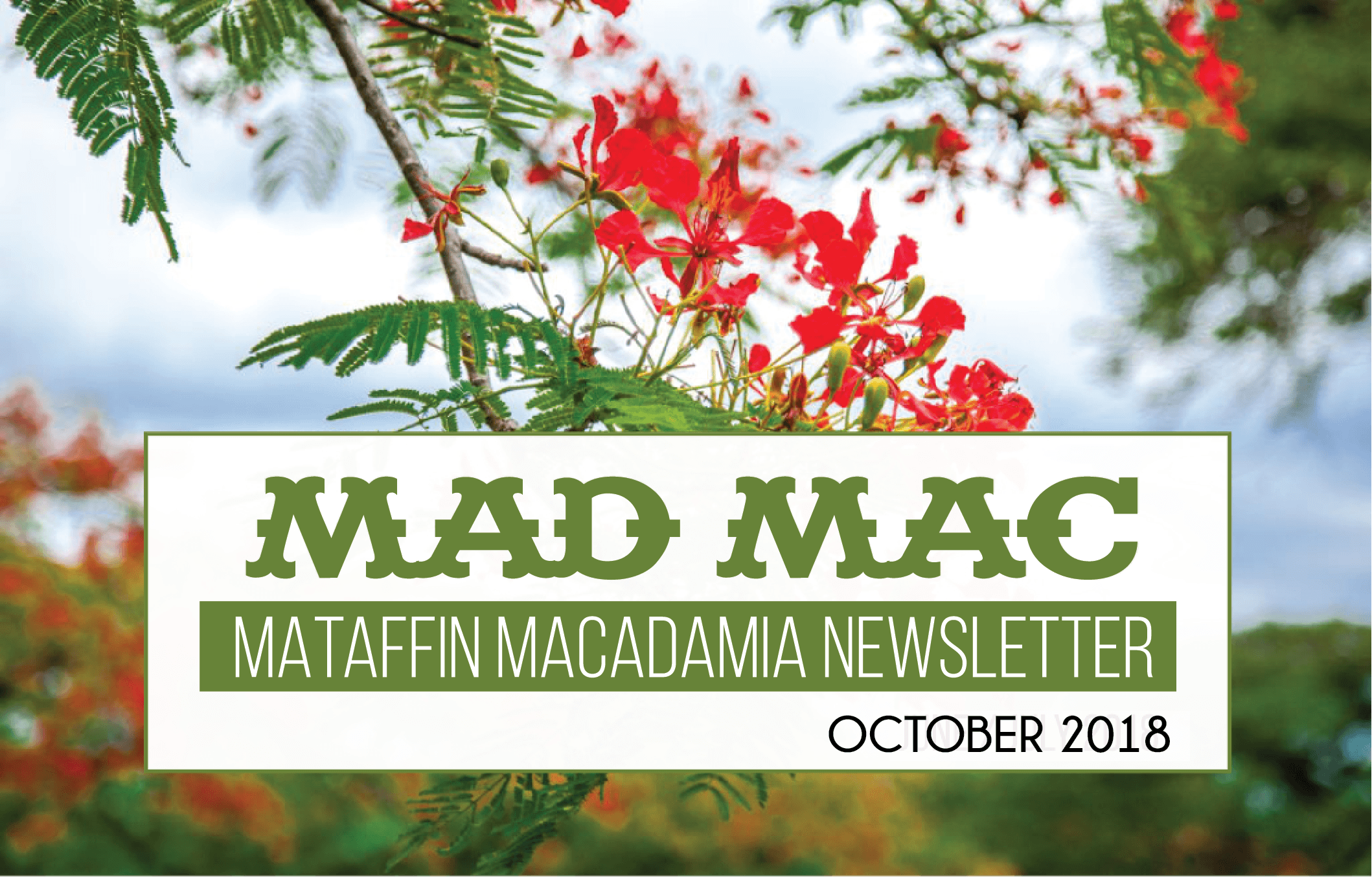 05 Oct

MadMac October 2018

Third time lucky … will our MAG be out on time? It is hard to believe that the temperatures have gone from winter to summer overnight. Now we just need some good rain to reinforce summer is really here.

Welcoming:

To the Freehold section of our village:
Mike and Jenny Garrett
Kathleen de Klerk and her daughter Luna
Gordi Krug
To the Lifestyle apartments:
Doreen Kramer
Teboho and Shayla Nchapha
Departures:
It is with great sadness that we are saying goodbye to Geraldine and Mark Janssens as they are moving into town. However, we are delighted that Geraldine, as a home owner, has agreed to remain on the HOA Board until her tenure has been completed.
 Feedback on Meetings
Brian and Margie Phillips are retiring from their post as village caretakers in order to have time to themselves and to be able to spend more time with their family after years of committed service to our development.  It is not an easy job and we would like to thank them for the dedication and hard work they have put into the smooth running of our village.
Marius Kruger has been appointed as the new caretaker and Robyn McLaren as the administration manager.  They assume their new duties on the 1st October 2018.
The upgraded internet service is now operational and working well.
Three homes in the Life Style village have been sold, within three months of being put on the market, and each one has been sold at the asking price.
Village Concerns
As spring has sprung we would like to draw everyone's attention to their verges/pavements. Please make sure they are kept up to standard. It is your responsibility to water, weed and feed the grass. Once a week (or as needed) it will be mowed by the garden service.
Parking of cars on the verges are of great concern. It causes difficulties in traffic flow as well as creating a troublesome obstacle for residents reversing out of their driveways. Please give this due consideration.
Many dog issues remain unresolved:
Dogs droppings must be picked up by the owners
All dogs must be walked on leads
NB: Dogs on the village green must be on a lead.
Community Centre
We are delighted to report that the various functions/events, that have been booked at the community centre, have been held with great success.
The regular, ongoing functions are being well supported.
The dart board, donated by Basil Woodward, is waiting to be used and an appeal is made for any interested parties to contact the community centre to set up a darts date/club.
The swimming pool temperature will be displayed on the notice board.
Lost property is kept at the community centre.
Christmas Morning Market
A proposal has again been made for a Christmas Market to be held on the 24th November from 10h00 to 14h00
Family and friends are welcome.
Contacts:
Tea Garden – Jan, Audrey and Val
Arts and Crafts Table – Katie and Helen
Home Industries – Caroline and Carol
Garden Table – Neil and Odette
Kiddies Table – Margie and Andra
Xmas décor – Andrea, Joan and Betsy
SPCA Table – Ingrid Raikes
We are slowly getting photographs together of the village history to be displayed at the community centre.  Once again, we appeal for any photos that could be used.
Vacations and Globetrotting
Wishing Frank a happy holiday with his family and friends in England and Irene Braak a wonderful trip to Portugal.
Welcome back to Phil and Andrea, and also to Anne and Roger, from their extended overseas trips.
The Owl and the Pussycat Column:
Life According to Tart
As I lie observing life from my spot on the veranda, it is astounding to see all that goes on in these leafy streets.
It was only a few days ago I watched a young person climb up into my favourite tree clutching a book and a mug of something comforting to drink.  No sooner had she nestled down into her favourite spot, on a solid wide branch where she was hidden from view by the large, glossy green leaves of the common fig tree, when she spied one of the nearby residents pottering in her garden.  Being a polite, well brought up young person she called out a 'helloooo'.  I nearly fell off my perch chuckling with glee, as this resident peered around trying to find the voice with no owner. What a ghostly experience!
Just this morning I stalked off with my tail in the air, exhibiting my disbelief at a conversation, yet at the same time I was grinning like my Cheshire cousin.  My very own Person was saying that should we all jumped up and down at the same time we could move the earth. Her neighbour nodded gravely and replied: 'I would throw in an extra five bucks towards it see the old man move off his couch!'
Hmmm … now you are probably wondering who I am, and I apologise for being amiss and not introducing myself at the beginning. Generally, I am known as Tart.  My Person found me crying on her doorstep one chilly July morning when I was still a wee fluff ball and, picking me up, she immediately decided I was to be her Sweetheart.  Since that moment I have been her eyes and ears and fierce protector, no matter what anyone calls me! 
I do hope you will allow me to have a small space in your MadMac newsletter, where I can keep you updated on some of the obscure, but interesting goings-on in our village. 
Owl Reflections
I don't know why Tart thinks she is the only one with interesting news of the village goings-on. I know she may see more than me seeing she is around part of the day and most of the night when not dozing in her comfortable spot. I, on the other hand, not only have a bird's eye-view of all the goings-on, but can place myself strategically wherever things get interesting, especially at night.
Do you know how many people don't sleep very well at night? I see lights going on and off at all hours across the village.
At first light as I am settling down for the day, I hear the other birds twittering away about who has the best selection on their feeders. Pawpaw on the rock, here, fat seed-balls there, fresh apples in others and brightly coloured sugar water for the sun birds. Of course, the homes without cats and dogs to disturb them are by far the favourites!
Those silly birds keep urging me to try flying through the garden sprinklers as it is so very refreshing, but who-whooo waters their gardens at midnight!
It is so good to have a little chat to you – I do try at night but have very little response.